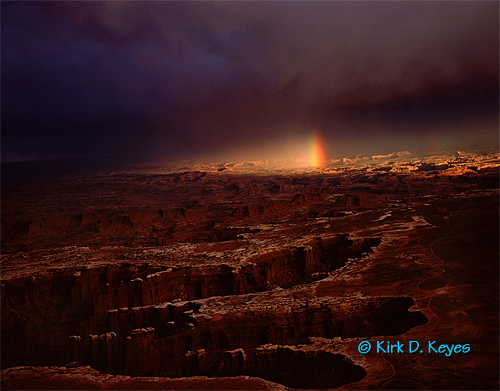 Location: Grand View Point, Canyonlands National Park, Utah
Camera: Linhof Technika IV 4×5
Lens: 90 mm Rodenstock Grandagon-G
Film: Fujichrome Provia / RPD II Quickloads
About the Moment: This is one of my favorite photographs. My wife Jeanne and I were traveling in Canyonlands National Park, UT – from Mesa Arch to Grand View Point, when we noticed a rainbow ahead of us. We were still several miles from away from the overlook so we raced off to catch the rainbow. When we arrived, I jumped out of the car, gathered the camera gear, and then quickly scouted out a spot along the mesa's cliff. I set the camera up in near record time, metered, and grabbed the box of film. Just then, the clouds quickly covered the sun, and the rainbow disappeared!
The tourists at the viewpoint began to return to their cars, with one saying "Too bad, looks like you missed it" as he passed. I noted the speed with which the clouds were moving and I replied "Maybe-".
Within 15 minutes, the sun reappeared; now very near to the horizon. The rainbow looked even more intense and brighter than it was earlier- this was probably due to the lower angle of the sun which allowed the light to be refracted through more rain. However, the wind was starting to pick up as the storm rapidly approached from over the Needles District of Canyonlands NP.
I was able to expose 4 sheets of color film before the sun set. Only one sheet came out – the other three were blurred by camera shake caused by the wind. I continued shooting with B&W, hoping to catch some of the lightning in the approaching storm. The wind intensified after the sun set; the gusts must have been greater than 40 mph. I had to lean on the camera, trying to steady it and keep it from falling off the 1100 ft. cliff. The wind seemed to be carrying a fair amount of dirt, blowing it straight up the cliff. It was like being inside a sand-blaster. I finally took the camera down when the rain started and then we rushed off to find some well deserved dinner.
Filters, Effects, Digital Manipulations: No filters were used. No digital manipulations were used to produce this photograph.