A self-taught photographer, Kirk's interest in landscape photography began in the mid-eighties with his "discovery" of the work of Ansel Adams. He soon found a very battered Linhof Technika III at a flea market, which he repaired back into working condition. Since then, he has traveled around Oregon and the American West, seeking to capture the land's grandeur and details.
He has photographed the natural, geographic, and geologic diversity of his native Oregon, as well as throughout southern Utah and the Colorado Plateau, the American and Canadian Rockies, the Sierras, the Great Basin, and Hawaii. For over 20 years, Kirk chose to use 4×5 and 8×10 large format cameras for his work – the need for large format can be argued only by examining the photographs themselves. He applies an artistic eye to the natural environment – a large format camera allows his vision to be shared with others without a loss in detail, tone, or texture. With the recent advancements in digital cameras, he's begun using them for time-lapse photos and videos.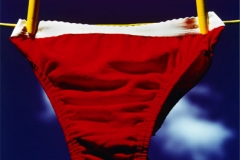 Kirk began displaying his work at the local county fair over the next several years, winning numerous awards – including "Best Color Photograph" for his Cibachrome print entitled "Red Underwear" (at right) in his first year of competition. He refined his printing skills working as a custom color printer in a commercial photography laboratory in the late 1980s. He is experienced in Gelatin-Silver (traditional Black &White), Type-C, Type-R, and Cibachrome/Ilfochrome processes.
While Ansel Adams sparked his interest and love for landscape photography, Kirk lists several photographers as inspiration for his work. Most notable are Eliot Porter, David Muench, Harrison R. Crandall, John Fielder, and fellow Oregon-based photographers Ray Atkeson, Christopher Burkett, and Steve Terrill.
In 1994, Kirk entered the photo market and had several images published. His credits include Oregon Field Guide Calendars, Braun Intertec Corporation, Vigillante Corporation, The Carrus Land House, and Miniature Quilts Magazine. Kirks' photo files contain several hundred images, and all are available for reproduction by contacting him.
A native Oregonian, Kirk lives in Portland, Oregon, with his wife Jeanne and daughter Sophia. He has a BS in Chemistry and works as an analytical chemist in an environmental testing laboratory.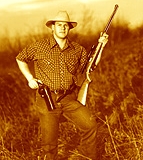 This Internet gallery was created so that Kirk could share his photographs with others that enjoy "Images of the Land." 
Kirk's self-portrait, ca. 1987 (taken with an 8×10 Seneca Improved View camera, ca. 1917)
(Not really one for guns, Kirk hunts ONLY with a camera.)