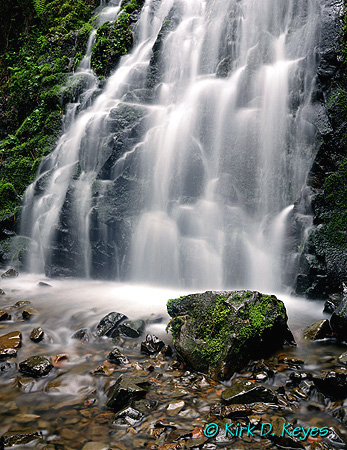 Location: Columbia River Gorge National Scenic Area, Oregon
Camera: Linhof Technika IV 4×5
Lens: 240 mm Schneider G-Claron
Film: Fujichrome Provia Quickloads
About the Moment: My friend Phil, Jeanne and I had spent the afternoon hiking to a waterfall named Triple Falls. It is an interesting waterfall where the stream breaks into three distinct falls. On the trip out, I spotted this little waterfall – the trail that we were hiking on goes right through the foreground of the photo. I think what caught my eye was the delicate, misty look of the falls. The falls by themselves are appealing, yet I do not think they are strong enough to hold the picture alone. I decided to use the moss-covered rock as a focal point for the image.
This is one of those images that would have been very easy to overlook – it is not very dramatic, yet it has a very serene look which I think makes this photograph appealing.
Time of Year: Late April.
Filters, Effects, Digital Manipulations: A polarizing filter was used to reduce glare and saturate the color of the foliage and the rocks underneath the water. The full strength of the polarizer was not applied so as to balance the highlights on the water surface with the colored rocks at the base of the falls. A shutter speed of approximately 4 seconds created the ethereal effect on the water's surface. No digital manipulations were used to produce this photograph.