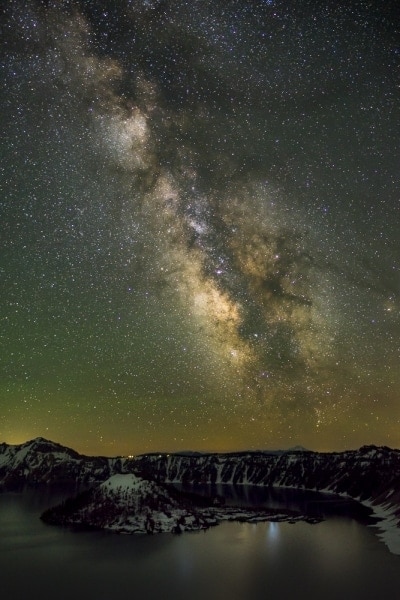 Several times in the last year, I had the good fortune to photograph the Milky Way nightscapes with Aaron King and Brendon Porter, hosts of the
Podcast
and
YouTube
channel
Photog Adventures
. I found their shows in early 2017, and immediately contacted them, as we share many of the same interests. I suggested meeting up and shooting together sometime – and they agreed!
They are based out of Salt Lake City and t
hey had never photographed in Oregon before. After discussing several locations to meet, they ended up picking two of the best spots in the state for their first photo trip here –
picking Bandon on the south Oregon coast to shoot the amazing sea stacks there and Crater Lake National Park which has some of the darkest sky in Oregon.
Crater Lake is one of the snowiest inhabited places in North America, receiving an average of 44 feet of snow each year. Considering the rim of the crater is at 7000 to 8000 feet in elevation, it's not surprising! The winter of 2016-2017 had an above average snowpack of 48 feet – that's 576 inches of snow. There is a road the circumnavigates the entire lake, and it is split into two sections – the East Rim and West Rim roads. We wanted to photograph from Merriam Point, located near the North Junction, where the West Rim Road forks to the North Entrance of the Park. Even though we visited a week before the start of July, the West Rim Road we needed to get to there opened a mere two days before we arrived. That was cutting it close! The parking lot at Merriam Point still had about 10 feet of snow there.
This photo is from our first of two nights at Crater Lake. The temperature that day was well above average and that made for an amazingly nice night for astro landscape photography. As the sky darkened, we saw that there was an amazing amount of green Air Glow – an atmospheric phenomena that happens about 60 miles above the earth's surface. Molecular nitrogen absorbs ultraviolet (UV) light from the sun during the day which puts it into an "excited" state, Then at night, if it collides with a molecule of oxygen, the energy from the UV light is radiated away as green light. Patterns in the air glow are called "gravity waves", and are caused by variations in air pressure at different altitudes and the earth's magnetic field. I had never noticed air glow before, and I was quite thrilled at the sight!
This single exposure was taken with a Sony a7R (ILCE-7R) and a 35 mm f/1.4 AS UMC Rokinon lens. The exposure was at ISO 3200 for 15 seconds at f/2.0. The photo was taken at 1:20 AM. Processing was done in Adobe Lightroom.
Aaron, Brendon, and I discussed this trip on Episode 41 of their Photog Adventures Podcast. The episode is titled "Oregon Road Trip | Crater Lake Milky Way Awesomeness with Kirk Keyes | Ep 41".
I'll be heading back to both Crater Lake and Bandon with Aaron and Brendon in a couple weeks to help them with a workshop. I had a great time photographing with those guys last year and I'm looking forward to our next Photog Adventure. It's sure to be a lot of fun!