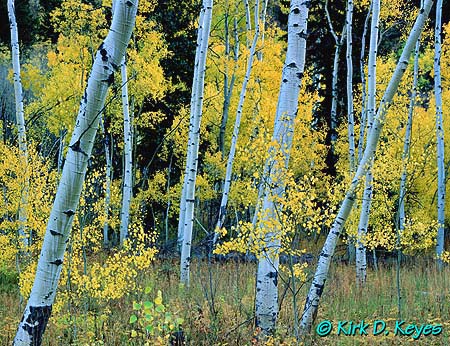 Location: Near Aspen, Colorado
Camera: Linhof Technika IV 4×5
Lens: 150 mm Fujinon W
Film: Fujichrome Velvia Quickloads
About the Moment: Jeanne and I were returning to town after spending the day at Maroon Lake below the Maroon Bells – Colorado's most photographed spot. On the way back, I saw a side road off the highway and pulled into it. After walking around the aspen grove there for a couple of minutes, I noticed the two aspens with a much greater incline angle than the other trees. This juxtaposition seemed like it would create an interesting tension in a photograph. The lighting and color-cast in the photograph are interesting as well. This is caused by the trees being in the late afternoon shadow of the mountain behind them, with the color being reflected from the sandstone canyon wall behind the camera. The color is as it was recorded on film.
Time of Year: Late September.
Filters, Effects, Digital Manipulations: No filters were used. No digital manipulations were used to produce this photograph.