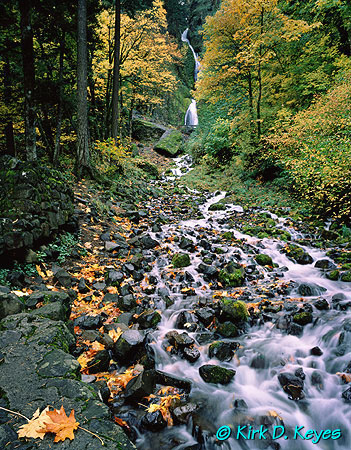 Location: Columbia River National Scenic Area, Oregon
Camera: Linhof Technika IV 4×5
Lens: 90 mm Rodenstock Grandagon-G
Film: Fujichrome Provia RDP II Quickload
About the Moment: This is perhaps the second most photographed waterfall in the Columbia River Gorge National Scenic Area – Multnomah Falls being first. It must seem obvious, but every waterfall is different, and therefore each must be approached accordingly when photographed. Multnomah consists of a two-stage fall dropping over 600 feet, and it lends itself to a long shot. Wahkeenah has three drops and a long series of cascades – I like to use these cascades and get the camera up close, thereby bringing the viewer right up to the edge of the waterfall.
I've been asked several times if the two leaves on the rock wall were already there when I arrived or if I put them there. They were already there. And it is fortunate for the photo, too. The lighter area of the stream in the lower right side of the photo needs something to keep the viewers' eye in the image. The leaves do that by drawing ones' eye over to the left side before it follows the stream off the photo's edge. I find that they add balance as well as interest to the image.
Time of Year: Late October.
Filters, Effects, Digital Manipulations: A polarizing filter was used to reduce glare on the water and saturate colors. No digital manipulations were used to produce this photograph.