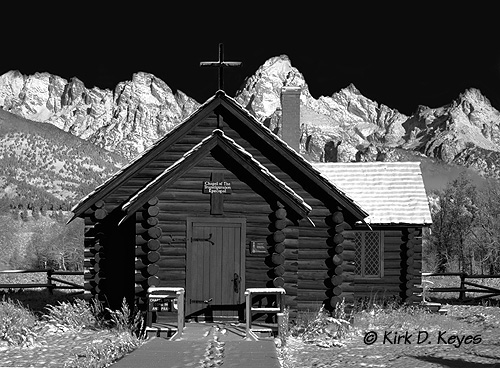 Location: Grand Teton National Park, Wyoming, USA
Camera: Linhof Technika IV 4×5
Lens: 240 mm Schneider G-Claron
Film: Kodak T-Max 100 Readyload
About the Moment: My wife Jeanne and I had traveled to the Tetons hoping to catch some fall colors against the mountains. It rained for 4 days. Every day, we would go out and hope that the clouds would break. They did not. While watching the news, I noticed that the weather to the south of us at Vernal, Utah was sunny and in the seventies, while Jackson Hole was in the thirties and rainy. We decided to head south the next day. That evening, wet snow was falling, and by morning, about three inches of snow had fallen – and the sky was completely clear. We pushed back our plans to go south, backed the car, and went out photographing until about noon. This was the first picture of the day.
A side note about this chapel – my grandmothers' brother was married here in the early thirties, and she spent several summers working at dude ranches around then herself. One summer, she worked for Harrison Crandall, a noted local photographer, at his home near String Lake just up the road from here.
Time of Year: Mid-October
Filters, Effects, Digital Manipulations: A polarizing filter was used to reduce glare and saturate the blue sky's shade. No digital manipulations were used to produce this photograph.